Nigerian Breweries Plc hosted an elegant send-forth dinner on Wednesday, July 26th, 2023, in honour of Chief Kola Jamodu (CFR) who retired recently as Chairman. The event was attended by top government functionaries, captains of industries, notable personalities, as well as families and friends. The dinner, held at The Jewel Aeida, Lekki Phase 1, Lagos, was a well-deserved tribute to Chief Kola Jamodu's stellar contributions to the company and the country. Chief Jamodu, a former Minister of Industry, Trade and Investment, served Nigerian Breweries Plc with distinction for 17 years, spending 15 years as board chairman, and retired on April 30, 2023.
Dignitaries in attendance at the send-forth ceremony gave an outpouring of commendation and paid glowing tributes to Chief Jamodu for his significant contribution to the company's growth and business performance over the years. His dynamic leadership and footprints in the company's history of Winning with Nigeria was further narrated in a documentary introduced by Mrs Sade Morgan, Corporate Affairs Director. A significant highlight of the event was the ceremonial passing of the baton of leadership from Chief Jamodu to the new chairman, Mr. Asue Ighodalo. marking the beginning of a new era for Nigerian Breweries Plc. Mr Hans Essaadi MD/CEO, expressed the company's unreserved confidence that Mr. Ighodalo will continue to build on the legacy of Chief Jamodu and take the company to even greater heights.
The send-forth ceremony was graced by several dignitaries, including the Deputy Governor of Lagos State, Dr. Obafemi Hamzat, who represented the Governor of Lagos, Mr. Babajide Sanwo-Olu. Dr. Hamzat described Chief Jamodu as a man of immense wisdom whose ideas and input would be a reference point at this critical time that the Nigerian economy is facing turbulence. He commended Nigerian Breweries Plc for celebrating an industry titan who has contributed his quota to the company's phenomenal growth and has significantly impacted the development of the manufacturing sector in Nigeria. The Deputy Governor's remarks underscored the importance of Chief Jamodu's contributions to the Nigerian economy and the manufacturing sector, and his legacy will continue to inspire future generations.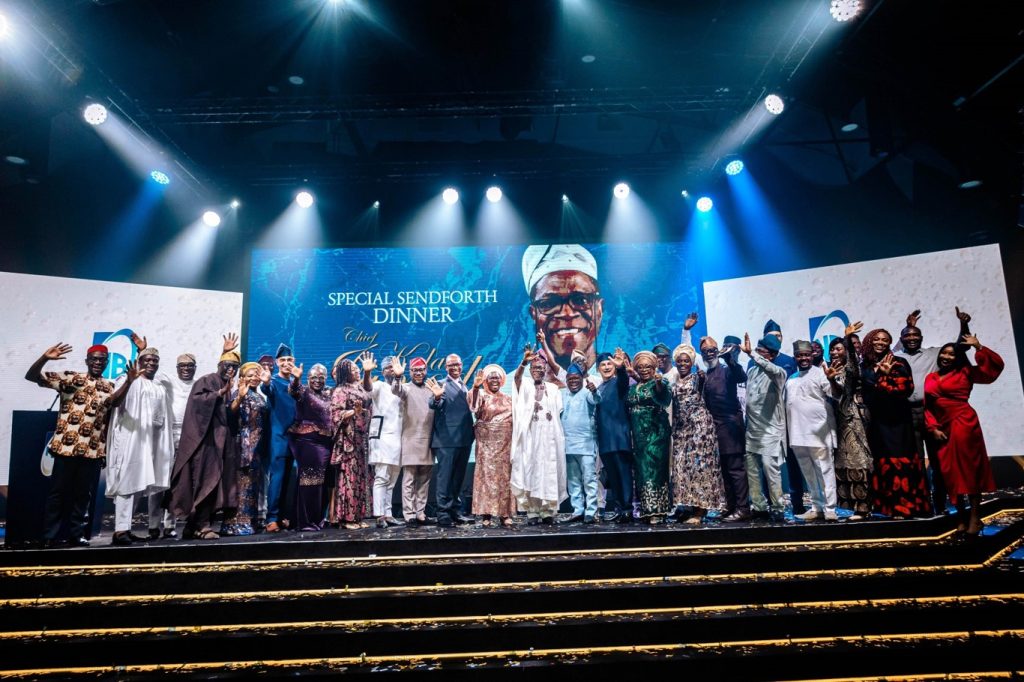 Also speaking at the event, the Governor of Edo State, Mr. Godwin Obaseki, congratulated Chief Jamodu, whom he described as a shining light of the corporate world and a firm believer in industrialization, for demonstrating exemplary leadership throughout his career in the private and public sectors. "You have been part of Nigeria's industrialization history. You were one of the leaders we looked up to. In 40 years, you have seen it all. We want to thank you for the symbol of leadership you have been. We want to thank you for representing Nigeria well as an entrepreneur. We want to thank you for managing one of the largest corporations in Nigeria. We want to thank you for showing us the way," he said. While giving a toast at the occasion, Chairman Nigerian Breweries Plc, Mr. Asue Ighodalo, commended him for serving the corporate institution with great distinction and excellence. "You were an invaluable asset to Nigerian Breweries Plc as you brought your wealth of experience as a businessman and seasoned corporate governance professional to bear while on the board. You left a remarkable legacy and humongous shoes which will be extremely difficult to fill," he said. In his response, Chief Jamodu thanked the former chairman of the company, Elder Felix Ohiwerei, for allowing him to join the board of the company 17 years ago. He also expressed his gratitude to all members of the board of Nigerian Breweries Plc that worked with him during his tenure, as well as all management of the company. He then paid glowing tributes to his wife, Funmi Jamodu, for her understanding and support.

In a profuse vote of thanks to the gathering, Mr. Uaboi Agbebaku, Company Secretary/Legal Director underscored the great esteem and appreciation that the company would always hold for Chief Kola Jamodu CFR. Some of the dignitaries who attended the event include; the former Governor of the Central Bank of Nigeria, Chief Joseph Sanusi, former Inspector General of Police, Musiliu Smith, former Governor of Cross River State, Donald Duke and his wife Onari Duke, former Governor of Ekiti State, Niyi Adebayo, former Minister of Finance, Mrs Nenadi Usman, former Chairman Nigerian Breweries Plc, Elder Felix Ohiwerei, Pastor Ituah Ighodalo, President, Manufacturers Association of Nigeria (MAN), Chief Francis Meshioye, Director General, MAN, Segun Ajayi-Kadir, Chairman, Presidential Committee on Tax Reforms, Taiwo Oyedele, Chairman, Channels Media Group, John Momoh among others.