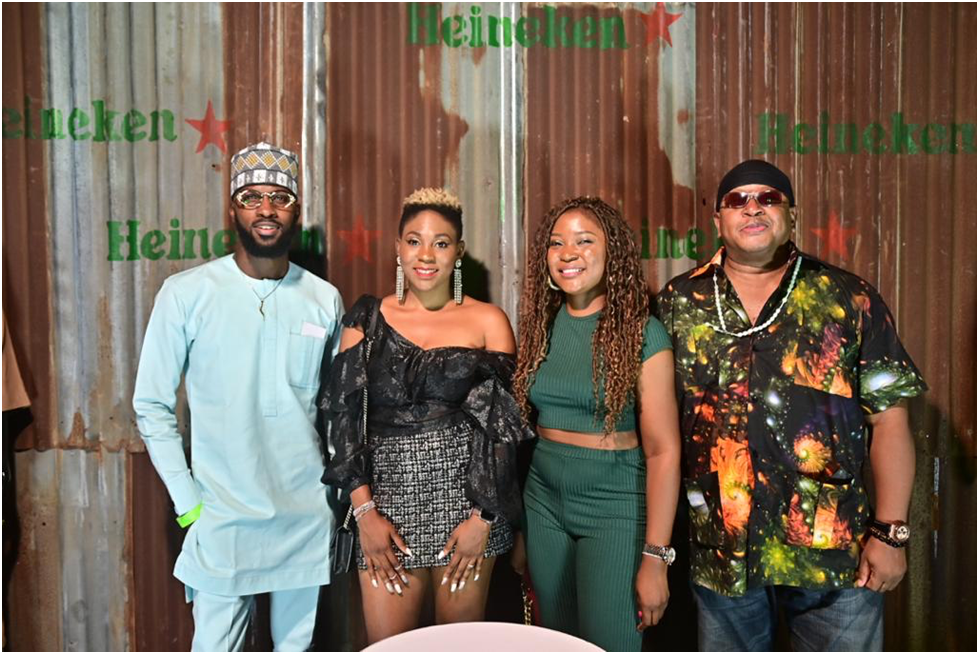 It's over! The Heineken Lagos Fashion Week – Woven Threads II ended with the most epic after party at the Moist beach club, in Oniru beach, Lagos.
Last year, Heineken Lagos Fashion Week launched the maiden edition of the Woven Threads, and this year, in the spirit of sustainability in African fashion, Heineken celebrates environmentally responsible designers and creatives who approach their work through the lens of circular design and traditional crafts.
There's no denying that the Heineken Lagos Fashion Week has been instrumental in shaping African fashion's future, by remaining a key platform for African creatives to showcase their creativity, achieve collaboration and access remarkable market opportunities.
The hybrid showcase is inspired by traditional craft and the need to adopt a more responsible approach to producing fashion on the continent. The virtual activations explored distinct textile craftsmanship and its use of embroidery, weaving, spinning, and customization. There were also workshops on the Fashion Business Series covering discussions on Waste, second-hand economy, tech in fashion, and building creative communities.
Once again, Heineken leads the drive towards a circular fashion economy in Africa by spotlighting designers with the most innovative community sustainable practises, with regards to pollution and waste; featuring the work of designers like Yemi Wunmi, OmafumeNiemogha, Bubu Ogusi, David Dodoo, and a host of others, working to close the product life-cycle with an emphasis on waste and recycling.
The Heineken brand has made its mark in Nigeria's fashion community by sponsoring Lagos Fashion Week which has grown over time to become a pilgrimage of sorts for fashion influencers and other creatives such as fashion photographers, stage managers, creative directors, media and others.
On the unwavering support of the Heineken brand to the Lagos Fashion Week, Aishat Anaekwe, Senior Brand Manager, Heineken said: "Heineken is passionate about innovation and its commitment to the growth of creatives on the continent remains unwavering. I am certain that this fashion season will continue the good work the brand has done with Stylehouse Files to set the pace for a possible blueprint for the future of fashion in Africa."
With a presence in over 192 countries, Heineken remains one of the most international brands on the planet. The brand prides itself on delivering premium experiences across various touch points such as fashion, sports, and music to its millions of consumers across the world.
BLOG POST 2
First Photos: Olisa, Akin Faminu, Yemi Wunmi Arrive To Party with Heineken Lagos Fashion Week
Social media is buzzing, all thanks to photos of top celebrities arriving at Moist Beach, Lagos for the Woven Threads after party. Onyibekeh, Elozonam, Angel Obasi, have become the first set of celebrities to start a frenzy with photos showing them all stunning in very beautiful pieces from different designers.
Moist Beach is a beehive as everyone is there to party in celebration of Heineken Lagos Fashion Week's Woven Threads II.
The second version of Heineken Lagos Fashion Week's Woven Threads has featured a series of fashion business workshops which were facilitated by heavyweight underdogs across waste, pollution, protecting creativity and video presentations from renowned designers like Yemi Wunmi, Omafume Niemogha, Bubu Ogusi, David Dodoo, and to round up the week, Heineken and StyleHouseFiles are pulling off the best party Lagos has seen in a while.
BLOG POST 3
Five Things We Got Up To At The Heineken Lagos Fashion Week – Woven Threads II
1. The unexpected.
Despite fashion's existence before time, we still haven't stopped being in awe of it.
Heineken Lagos Fashion Week's Woven Threads II had our appetites all whet. From the Business Series to the Video Presentation to the after party, the second edition turned out to be as memorable as fashion itself.
2. All shades of glam!
Style, designs and downright fashion statements were showcased by nearly everyone who turned up to the afterparty, creating all the glam that a fantastic fashion event should consist of.
3. Style Stars.
From Style Connoisseur, to Ebeleudoh, to all the other big fashion and entertainment names, the afterparty was teeming with celebrities from all walks of life. Music performances at the event by xxxxx had us dancing with glee.
4. Networking.
From the Business Series to the Video Presentation and the Afterparty, the entire event has been set up to get people to connect and create reliable networks for their endeavors. Friendships were built, business was made, sustainable fashion was solidified and everyone left the afterparty with something gained.
5. Cold Beer.
Fashion events in Nigeria are incomplete without the most international premium beer brand, Heineken. With its strides in African fashion over the past 10 years, it's a wonder what other surprises the brand has in store for fashion lovers asides cold beer, of course.
So there you have it, five things you missed at Heineken Lagos Fashion Week's Woven Threads II.