With playlists that kept the audience active, in between smooth transitions, Goldberg ambassador, DJ Kaywise and Small Doctor crowned DJ XXX's as the king of Goldberg's Takeover Party after a high-stake battle with fellow contender, DJ XXX.
Goldberg, the premium quality Lager Beer, awarded DJ XXX and DJ XXX with a N250,000 and N150,000 cash prize respectively, for a well-earned win at the just concluded Goldberg Takeover party in Stalad Hotel, Progress College Road, Abule Egba, Lagos.
Speaking at the Takeover Party, Senior Brand Manager, Olaoluwa Babalola, said, "Our tradition at Goldberg necessitates us to remain close enough to our consumers, to promote their outstanding talents. It was indeed a battle of great talents in the entertainment industry, and we are very happy to be a part of their success; we have no doubts they will all go far in the industry."
As the artistry of disc-jockeying increasingly becomes notable in Nigeria and the world over, the Goldberg brand has remained steadfast in its commitment to nurture and encourage talents to maximize their potential.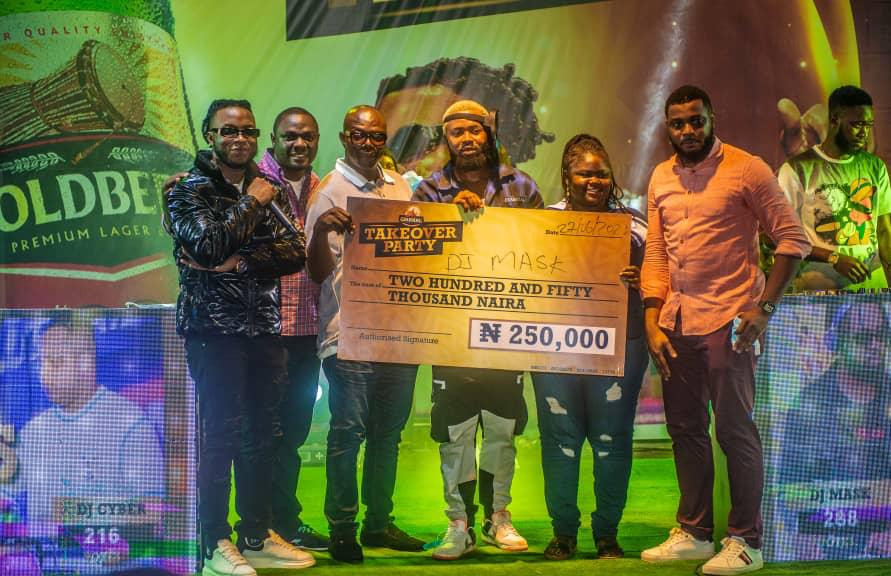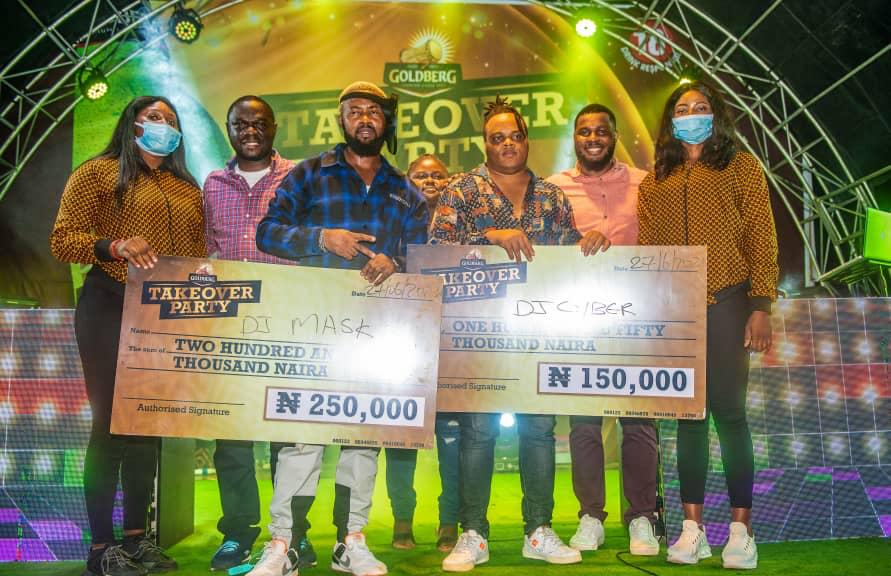 The Goldberg Takeover Party experience will continue with a sponsored mentorship for contestants with the show's top headliner and judge, DJ Kaywise at his renowned DJ Academy. In a statement, Kaywise highlighted the potential impact of the project.
"I am excited to work with Goldberg; it's a brand that is hinged on the values of respect, enterprise, and dignity so much that it creates platforms of opportunities for upcoming DJs across Nigeria. And you know, some of us didn't have such opportunities so it's very refreshing to see a brand deliberately put in the efforts and resources to take these budding talents farther," he said.
Having toured cities like Benin, Warri and now Lagos, the Goldberg Takeover Party will be making its next stop at the Federal Capital Territory, Abuja,
By bringing enjoyment to millions of fans and actively supporting the development of young talents in the country, Olaoluwa further reiterated that, "Goldberg is always honoured to initiate a movement in the mainstream entertainment scene that can further contribute pillars of support for unique creatives through healthy competitions, and we will not relent our efforts to provide opportunities and recognition for DJs and other talents whom we recognize as kingmakers in their own stead."
About Nigerian Breweries PLC:
A member of the HEINEKEN Group, Nigerian Breweries Plc is the pioneer and largest brewing company in Nigeria. Incorporated in 1946 as "Nigerian Brewery Limited", the company made history in June 1949 when the first bottle of STAR lager beer rolled out of its Lagos brewery bottling line. Today, it has a rich portfolio of 19 high-quality brands (such as Heineken, Desperados, Maltina, Life, Amstel Malta, Gulder, Fayrouz and Legend) produced from 9 breweries and 2 malting plants which are distributed nationwide. Nigerian Breweries is also a recipient of several awards and recognition in other areas of its operations including product quality, marketing excellence, productivity and innovation, health and safety, corporate social responsibility, and sustainability. To learn more, visit the Nigerian Breweries website: nbplc.com